03/05/2017
dwars continues to sharpen its already razor-sharp tongue to mercilessly lick the spine of books, movies, series, games, music, theatre, hair products and rubber ducks. And beware, no one is safe for our judgement. This time: the newest party concept in town.
I have just finished working, it's two o'clock on a Tuesday and I'm tired. I'm questioning my whole decision to still go to this party, but here I am. And as I walk through the doors of De Aalmoezenier, I instantly feel at home. That, ladies and gentlemen, is the effect of R U Mine.
R U Mine is a quite new party concept organized by Kassa 4. It is the little student brother of the notorious London Calling parties, famous for their great indie rock music and underground attitude. According to founder Olly Ameen, London Calling came about because the city night life was dominated by electronic and commercial music. No other club was playing proper indie rock music and kept the whole thing underground. Very quickly this concept became popular and now every once in a while Bar Venetië in Borgerhout fills up with indie fans from across Antwerp and beyond. But because these parties were always on the weekend, students who went home couldn't go. And that's where R U Mine started.
R U Mine's first edition was at Public, which was way too fancy for this kind of party. Now they moved to the Aalmoezenier and I must say, though there were strikingly less people than last time, the location suits the concept just fine. It gives the whole thing a perfect basement/underground vibe. The great thing about these parties is the fact that no one cares about anything. You can completely be yourself and nobody will judge. Sweaty drunk dancing next to the DJ booth? No problem! Shouting your lungs out to the tunes of Joy Division? Yes please! Vigorously playing air keyboard like no one is watching? Everyone is watching and we love it!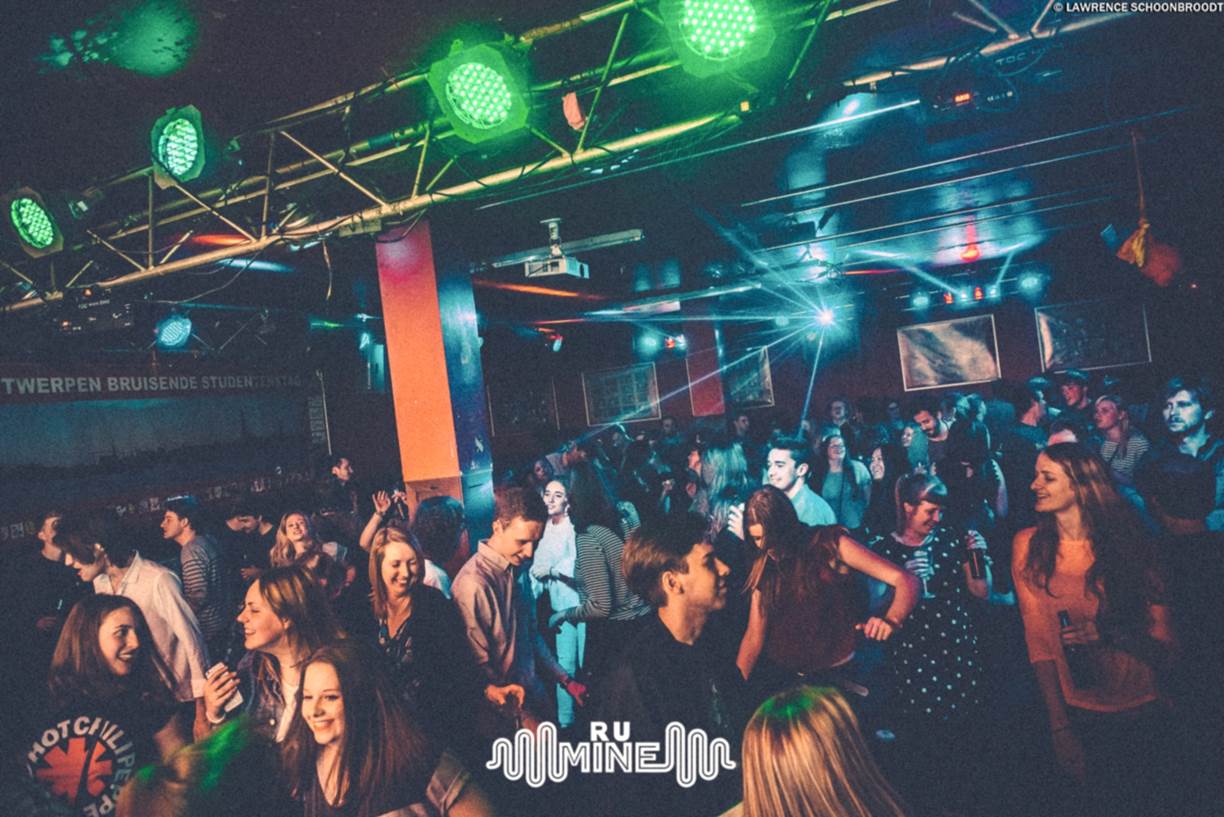 And this is such a breath of fresh air. In a city where every party seems to require some sort of social status and matching outfit, these people really couldn't give less of a fuck. We, the misfits and outcasts and the people who just want to dance to good music and not care about anything else, we belong here. Amidst the smoke and broken beer bottles and a curly dark haired DJ playing the best the indie scene has to offer.
Agreed, the indie music has its limits so every party sort of the same music is played, but I'm already pretty happy there is no Shape of You blasting through the speakers. Because when I hear Joy Division, The Cure, The Smiths and others and I see everyone around me singing along, I can't but look in complete admiration at all these people. It is not easy, but London Calling and R U Mine managed to bring together a group of likeminded people, a fanbase almost, and created a place in Antwerp where everybody feels at home.